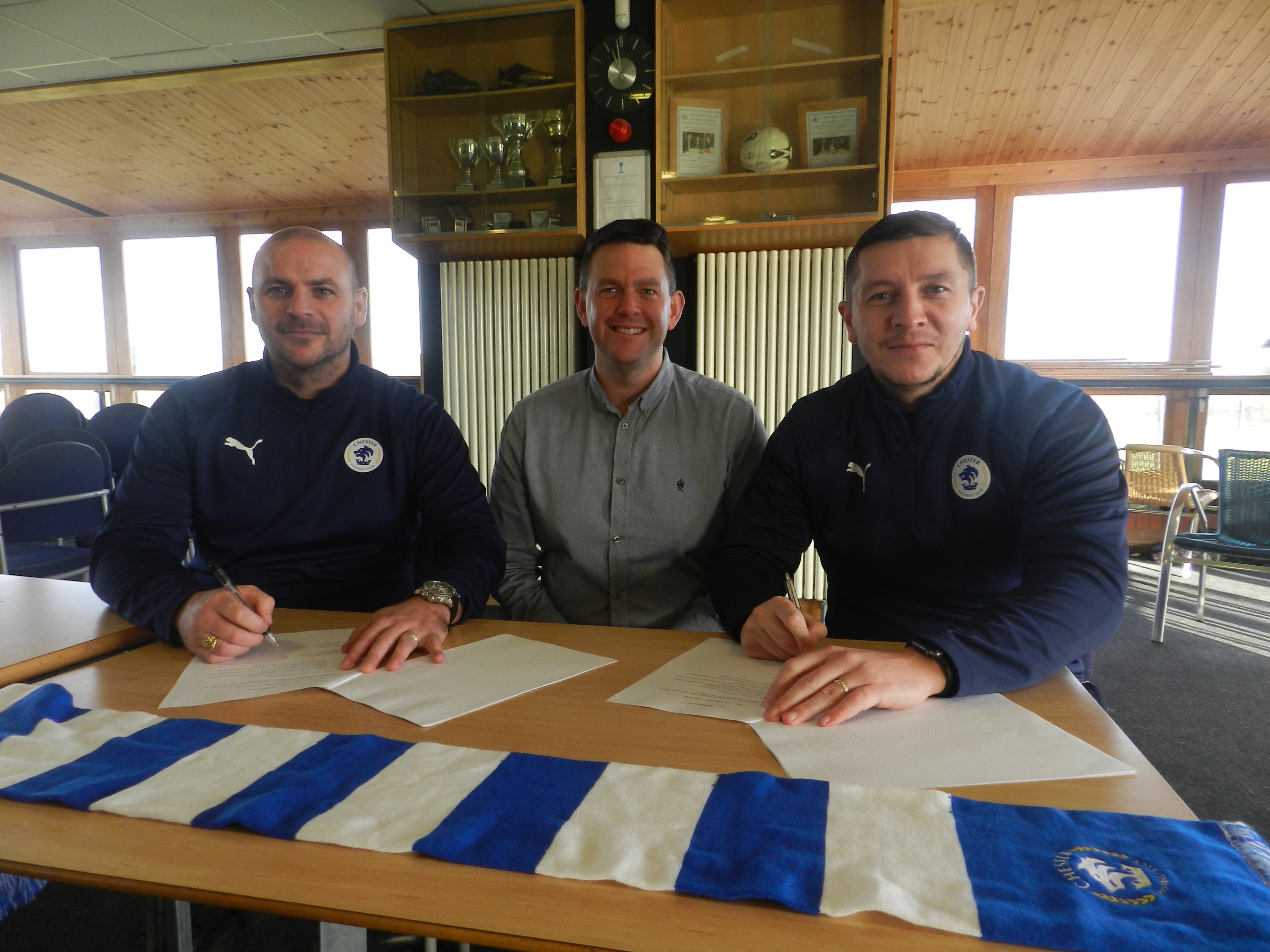 Anthony Johnson and Bernard Morley or Jonno and Bern as they are more commonly known. Two football managers – Co-managing Chester Football Club in the National League North – who are very well known to football fans the length and breadth of the UK due to their time in charge of Salford City owned by the Class of 92 and Peter Lim that saw them feature as part of a BBC prime time documentary followed by a multiple series follow up on Sky Sports.
However, there is far more to both men than all that you see on the Salford documentary series. However, before we get to that, how do they reflect of life in the limelight and how they were portrayed in that documentary?
Anthony Johnson summed up the documentary experience for CFB, "You've got Paul Scholes, Phil Neville, Gary Neville, Nicky Butt and Ryan Giggs stood over your shoulder. You're in the limelight. You're on BBC at prime time, there were cameras in our homes, speaking to our wives and kids and our mothers.
No one trains you for any of that. There's no training. We don't have PAs. There aren't people who come round and say "don't say this, you can't say that."
"I'm not saying there are any bad bits in the programme, but because of the type of characters we are, we provoke opinion so people come away and think a couple of aggressive bullies. Everyone that knows us and has worked with us knows that is not the case and that we take our roles very seriously and work as hard as we can to achieve success at every club we work at."
Bernard Morley echoes this view and sums up the dilemma they faced at Salford due to the high profile nature of the owners and coverage the club received, "If we won leagues it's because we had money and if we didn't succeed it's because we're clueless."
Both men are far from clueless as their record in management together has shown. The duo won three promotions in four years at Salford and had title-winning success at Ramsbottom United before that. Following their departure from Salford, interest in the pair was very high and they were linked with a host of clubs including Barrow, Chesterfield and Carlisle. However, the pair swiftly chose Chester Football Club as their next step being appointed just seven days after they left Salford.
So why did they choose Chester over a host of other clubs?
On the day of their appointment they both stated that, "We are an ambitious management team and whilst we know there are challenges ahead, we would not have taken the job if we didn't believe that we could get Chester into a position of challenging for promotion."
Crucially, they also stressed the importance of patience and realism from fans as they both fully acknowledge that it'll take time to ensure that Chester – a fan owned club – can challenge for a return to the Football League in the future. Despite the call for patience, their passion and determination has not waned in the slightest in this new challenge. Anthony Johnson sums up the work rate of the pair and their determination to succeed, "We immerse ourselves in the football club, we're massive on it. We don't travel from Bury up to Chester and just have an hour there and then go home. We believe having sustained success comes from us buying into Chester and Chester buying into us."
So far after just over 18 months in charge the pair continue to work hard to compete for promotion to the National League. In their first season – 18/19 – Chester finished the season in 9th place and just three points off the playoffs. A stop-start season in many ways but an education for both men in relation to the task at hand.
This season has been a different story with Club sitting comfortably in the playoff positions with games in hand over their nearest competitions. Unfortunately for both men and Chester as a club, due to the COVID-19 outbreak when and if the season resumes remains a mystery but you'd have to be a brave man or woman to bet against Chester competing in the playoffs for promotion under both men in the near future.
Their work across all levels of the club has not gone unnoticed either. Paul Bodman – Chester FC Board member and the club's Commercial Director – explained the power of their impact. "When Jonno & Bern first became joint managers at Chester FC, I wasn't sure what we would get, they had been the focal point of a TV documentary about their time at Salford.
What we got was totally committed, dedicated and driven managers who wanted success. They bought into the clubs fan ownership model and embraced everything the club was all about.
The last two years have been a building project to get the club promoted to the National League then challenge for a place in the Football League.
Their work ethic, honesty and leadership is a major reason why our club is going forward.
Added to all the above they are two of the friendliest people you could meet, always happy to chat to fans regardless of the result and to promote Chester FC in the best possible way. We are delighted and proud to have Jonno and Bern as our managers."
Furthermore, both men are incredibly happy at Chester and the fans are incredibly happy with the job that they've done so far. This resulted in the pair signing new two years deals at the club that will take them until 2022 at least.
Upon putting pen to paper on their new deals they both had a rousing message for fans: "Stay with us. Our ambitions are limitless. Chester FC's ceiling is as high as we want it to be. This isn't a small little club punching above it's weight, where we are right now is the absolute minimum. We believe where we can get to over the next two-and-a-half years is scary."
To conclude, as stated in the title of this article there is far more to Jonno and Bern than meets the documentary viewers eye. They are both hardworking, family men with solid records in management and with momentum building at Chester; another promotion may just be around the corner.