Dr. Grant Campbell of the 'Campbell's Footballs' podcast (a.k.a. Stato) discusses his predictions and thoughts each week in the Danske Bank Premiership in Northern Ireland. Grant will provide his thoughts on the upcoming league matches and offers his predictions.
Game week 5 and 6 Results – How did I fare?
| | | |
| --- | --- | --- |
| Matches | Stato's Predictions | Actual scoreline |
| Ballymena United v Glenavon | 2-2 | 0-2 |
| Carrick Rangers v Portadown | 1-1 | 4-1 |
| Crusaders v Coleraine | 2-1 | 1-0 (1pt) |
| Dungannon Swifts v Cliftonville | 0-2 | 2-1 |
| Warrenpoint Town v Larne | 0-3 | 1-1 |
| Coleraine v Linfield | 1-1 | 0-2 |
| Larne v Crusaders | 3-2 | 2-1 (1pt) |
Last week, I got 2 correct outcomes but no perfect scores. A tough week for me but a week that shows you anyone can beat anyone in the Irish League. It's so competitive and there are no easy games for any of the teams in this league. Let's see if I can hit back this week.
Player of Week 5 – Dougie Wilson (Dungannon Swifts)
This was a toss up between Carrick Rangers' Michael Smith and Dungannon's Dougie WIlson (pictured) this week but I'm just shading it to the latter even though the Carrick man got a hat-trick against Portadown last Tuesday night.
Going into this game, Dungannon had yet to score a league goal but Wilson popped up with their first two goals this campaign as they won 2-1 at Stangmore Park against Cliftonville (who ironically had the best defensive record in the league heading into this fixture).
It was a great win for Dungannon and is a big shot in the arm for Wilson who was top scorer for the Swifts last season. His goals and all round play will be key for the Tyrone side if they are going to survive in the Premiership this time around.
Team of Week 5- Carrick Rangers
Carrick Rangers win my team of the week.
After falling a goal down at home to Portadown, the side who started the match on Tuesday night bottom of the Premiership could have crumbled. However, the complete opposite happened. Inspired by a brilliant individual performance from hat-trick hero Smith, Niall Currie's men recovered magnificently to win 4-1 at Taylor's Avenue. Carrick's remarkable turnaround saw them climb above Glentoran and Ballymena and off the foot of the table. Smith's final goal as well was an absolute peach. A shout-out to Mark Graham for capturing this!
It's disappointing however, that Carrick cannot immediately kick on from this superb win last Tuesday. Their match last Saturday against Glenavon and this weekend's encounter with Coleraine were postponed in line with the Northern Ireland Football League's COVID case policy. The club confirmed that 14 of their players were required to self-isolate after being close contacts to people who had tested positive for the virus.
This must be so frustrating for Currie and his players but at a time like this, my first concern is to all who has contracted this deadly virus.
I hope all make a speedy recovery.
Now, let's move onto this week's matches and my (likely rubbish!) predictions…Just the four games this week as Carrick's game with Coleraine and Portadown's match with Glentoran is off due to NI's COVID case policy.
Saturday 21st November – Ballymena United v Warrenpoint Town, 15.00 KO, Ballymena Showgrounds, BBC Sport NI website
Ballymena are a side who have not won since the opening game week and face a Warrenpoint team on Saturday who will be buoyed by taking an impressive point off unbeaten Larne last Tuesday night.
The Sky Blues have not going yet this season. They have one of the top managers in the league in David Jeffrey (pictured) but they just cannot string a ninety minutes together at the moment. They are good in flashes as we saw against Crusaders and Linfield at home but ultimately they are being punished for individual errors.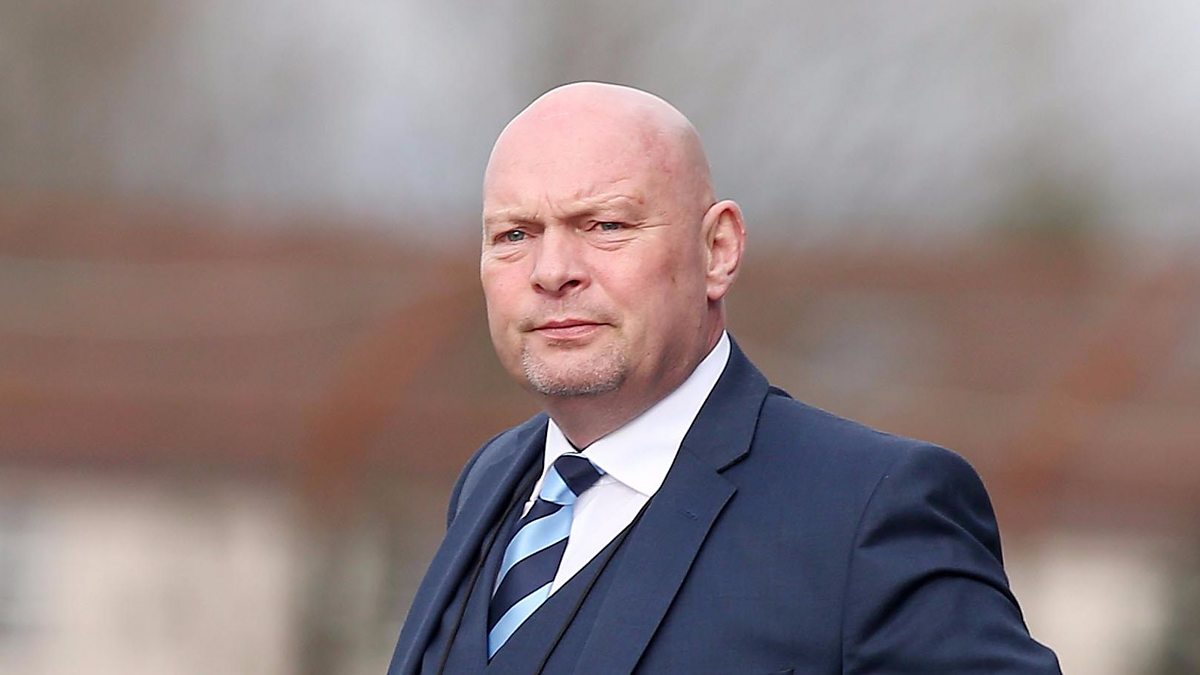 Warrenpoint have fared slightly better than many expected this season at this stage. They won at Dungannon and have picked up useful 1-1 draws at home to Portadown and Larne. They also have had Crusaders and Cliftonville in that run and although they lost both matches they certainly were not disgraced.
If Barry Gray's side (pictured) were to pick up a win here, then I think there will be big pressure on Jeffrey. They had a poor run in the Irish League last season before the pandemic and their last home league win came against Glenavon in December 2019, almost a year ago.
Ballymena lead the head to head against Warrenpoint 4-3 from the last seven matches played and if you offered DJ any kind of victory on Saturday, he would take it and so would his players. They look like a side struggling for confidence at the moment. There's no doubt Warrenpoint have improved though and I expect them to make this a tricky affair for the Sky Blues.
I'm gonna back Ballymena to win their first home league win of the season but I expect it to be a tight and nervy affair.
Stato's Prediction: Ballymena United 2-1 Warrenpoint Town
Saturday 21st November – Crusaders v Dungannon Swifts, 15.00 KO, Seaview, BBC Sport NI website
It's been a mixed week for Crusaders.
They saw off Coleraine in a stodgy encounter at Seaview 1-0 last Tuesday before narrowly losing at Inver Park against Larne on Saturday evening 2-1.
For Dungannon, Kris Lindsay (pictured) will be delighted they have finally got their goalscoring boots on! Dougie Wilson got all the headlines but the Swifts played well as a team last Tuesday night and they deserved to take all three points as they saw off Cliftonville at home. It was a third match unbeaten as well for the Tyrone team.
However, Saturday will be a tough match for Dungannon against a team they have a pretty poor record against, especially at Seaview. You have to go back to 2010 for the last time the Swifts won there and you have to go back to 2017 for the last time they scored at the Shore Road.
I think Jordan Owens will continue his excellent form in front of goal and I think we may see a bit more from the Crues midfield in this match too. I am looking forward to seeing more from Jamie McGonigle and I like the look of Declan Caddell (pictured) in recent games. He's looking sharp and like Philip Lowry and Jordan Forsyth, offer a lot going forward.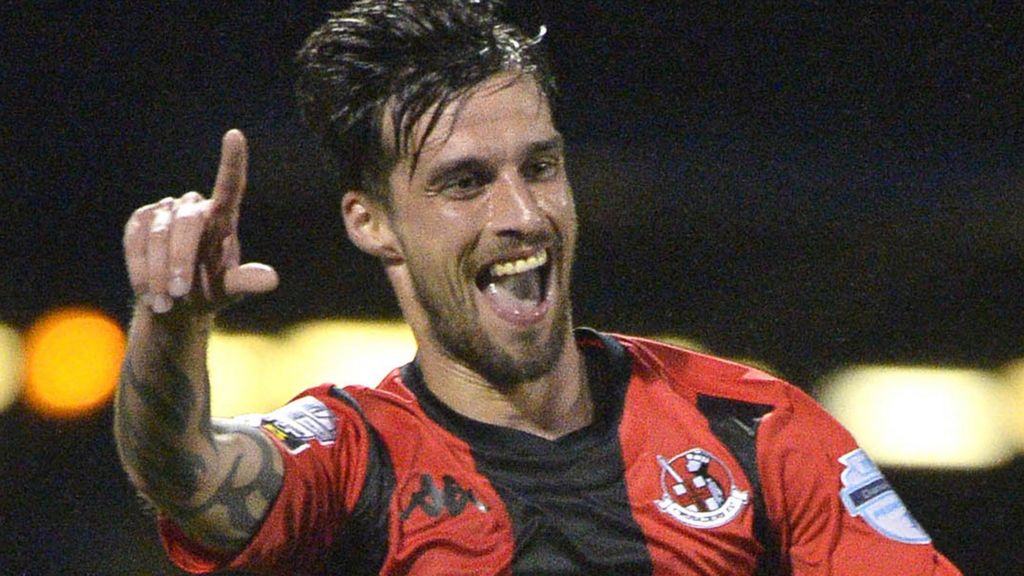 A fairly comfortable home win for Stephen Baxter's men is what I am tipping here (sorry Dungannon fans!).
Stato's Prediction: Crusaders 3-0 Dungannon Swifts
Saturday 21st November – Larne v Cliftonville, 15.00 KO, Inver Park, BBC Sport NI website
Unbeaten Larne are back at home on Saturday and face a Cliftonville side who have already lost both their previous away matches so far this season.
Larne were excellent last weekend against Crusaders. They won it 2-1 but they should have won it a lot more comfortably in my view. David McDaid and Tomas Cosgrove (pictured right with Caddell) got the goals but they made life difficult for themselves after a defensive mix up gave Crusaders a route back in, making it a nervy finale for Tiernan Lynch's side. Larne needed that win last week after two draws against Glentoran and Warrenpoint where they were scrappy and not their fluent selves.
Cliftonville, on the other hand, were very disappointing at Dungannon last Tuesday night. They just never got going and struggled to break down at stubborn Swifts backline. Not even a sublime Gary Breen free kick was enough to inspire Paddy McLaughlin's men to a positive result. The Reds are faultless at home with three wins and three clean sheets against Glentoran, Carrick and Warrenpoint but pointless away thus far after defeats against Dungannon and Crusaders.
This is a big game for both teams. Larne need to continue winning to keep the pressure on Linfield at the top but Cliftonville need to win this too to get back on the bike after their inconsistent start.
Larne have yet to drop points at home this season but I cannot see Cliftonville losing three straight away games – it would be extraordinary if that happened. Despite the Inver Mens's firepower, I fancy Michael McCrudden (pictured) and his teammates to get a share of the spoils in an entertaining game.
Stato's Prediction: Larne 2-2 Cliftonville
Saturday 21st November – Linfield v Glenavon, 15.00 KO, Windsor Park, BBC Sport NI website
The only side with maximum points in the Irish League are back on familiar territory on Saturday as they face a Glenavon side who picked up their first league victory of the season at Ballymena last Tuesday night.
The growing question many Irish League fans and pundits alike will be who can stop Linfield? David Healy's men – minus their County Antrim Shield semi final loss to Larne – do not look like losing at the moment.
I personally thought they would struggle at Coleraine last weekend but they fully deserved their win and showed why they are still the team to beat in the title race. Jordan Stewart (pictured) was impressive for the Blues and Andy Waterworth just cannot stop scoring either. A first clean sheet of the season too was also be a big plus for Healy's men.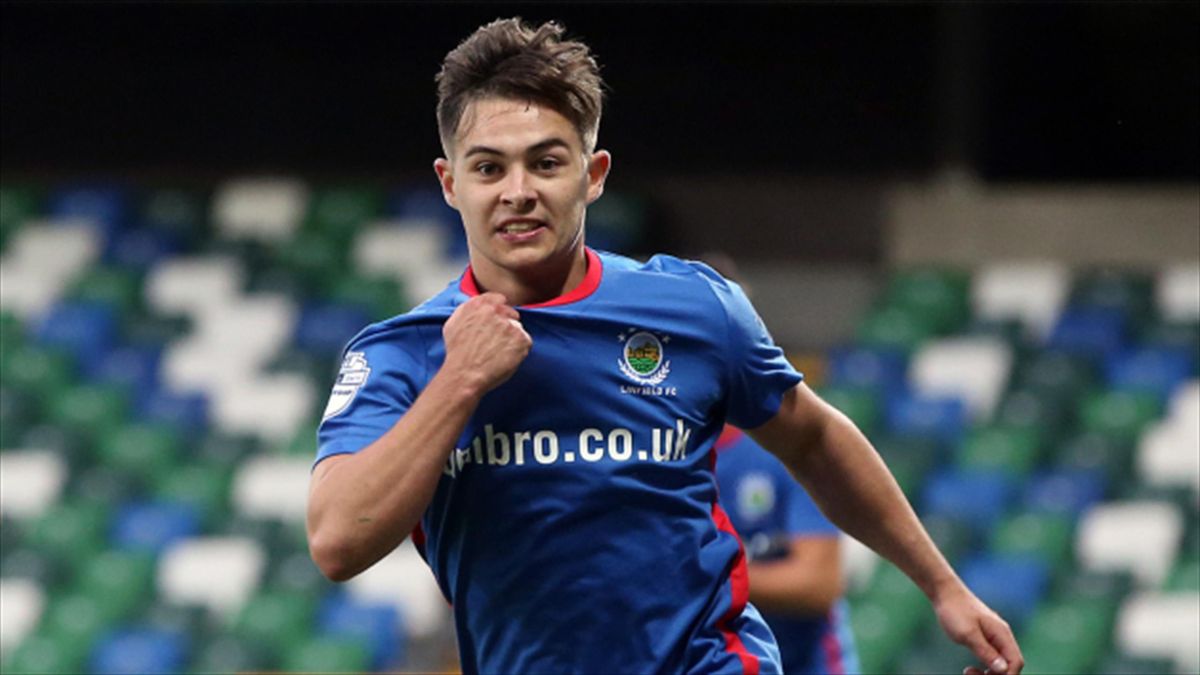 Glenavon are four unbeaten after that victory at Ballymena last Tuesday night. They are also beginning to score goals themselves too, something I was critical of a few blogs ago. Greg Moorhouse (pictured) will be a big player for them this season and I was pleased to see Matthew Fitzpatrick score again after his goal at Coleraine a couple of weekends ago.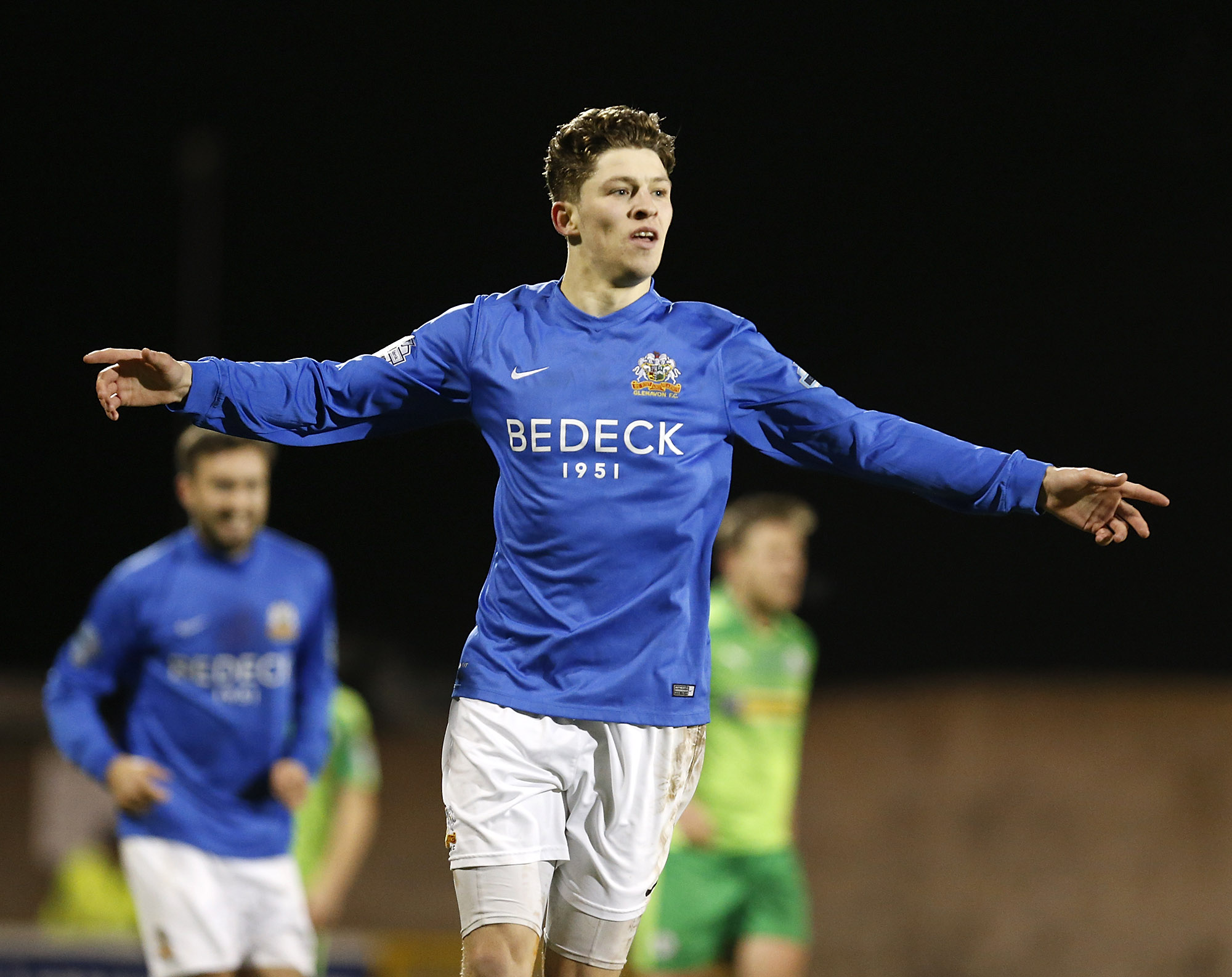 If Glenavon are going to make it five unbeaten though, then they will need to defend better than their last two meetings at Windsor Park. They lost 8-1 and 7-0 here last season as they were torn to shreds by a side who were hungry and ruthless.
I don't see it being as one sided as those two matches but nevertheless, I think Linfield will continue their 100% record with a win here.
Stato's Prediction: Linfield 3-1 Glenavon
Player to scout: Dayle Coleing (Glentoran)
Each week in my blog, I pick a Northern Irish League player you should scout and look out for as the season progresses. This guy isn't playing this weekend but I think you should go and scout Glentoran goalkeeper and Gibraltar internationalist Dayle Coleing (pictured).
He may be only 24 but Coleing comes to Glentoran with plenty of promise after impressing in Gibraltar and on the international scene. Fans of Celtic and Rangers may be interested to know that Coleing was on the books at Lincoln Red Imps but never played against either of the Old Firm sides. However, Motherwell fans will be familiar of him as he played for the Glens in the Europa League play-off match at Fir Park earlier in the season, albeit ending up on the losing side.
After moving to the UK to complete his studies, Coleing moved to join Gibraltar Phoenix before eventually signing for Gibraltar club side Europa. His impressive performances in between the sticks saw him called up to the national squad where he has represented his country at U19, U21 and senior level. He made his full senior international debut for Gibraltar against Denmark in 2019 but alas was on the end of a 6-0 defeat.
Coleing is the most recent player from Gibraltar to play in the Irish League since Colin Ramirez in 1993 who also played for the Glens. Coleing has taken the number one jersey from long time legend of the club Elliott Morris and his performances in goal so far this season have been impressive. He will, no doubt, be an important cog in Mick McDermott's side wheel if they are going to be successful this season.
Useful Links and sources which you should check out:
NIFL Premiership Highlights Show:
The Score NI with Michael Clarke:
The Waffle – Irish League Podcast
That's What I Call Football
Check out quality Irish League content from some of the Leagues top names:
Joel Taggart, Liam Beckett, Michael Clarke, Nicola McCarthy, Colin Hopkins, Steven Beacom, Mark McIntosh and find some of the characters I've interviewed so far by visiting the Campbell's Footballs archive.