Dr. Grant Campbell of the 'Campbell's Footballs' podcast (a.k.a. Stato) discusses his predictions and thoughts each week in the Danske Bank Premiership in Northern Ireland. Grant will provide his thoughts on the upcoming league matches and offers his predictions.
Game week 5 and 6 Results – How did I fare?
| | | |
| --- | --- | --- |
| Matches | Stato's Predictions | Actual scoreline |
| Ballymena United v Warrenpoint Town | 2-1 | 2-0 (1pt) |
| Crusaders v Dungannon Swifts | 3-0 | 3-1 (1pt) |
| Larne v Cliftonville | 2-2 | 1-0 |
| Linfield v Glenavon | 3-1 | 2-0 (1pt) |
I managed three correct outcomes from last week's matches but no correct scores. It would have been a full house had Cliftonville not conceded that last minute winner against Larne. A big win for the Inver men!
Player of the Week – Ben Kennedy (Crusaders)
My player of the week goes to Crusaders newbie Ben Kennedy (pictured).
The former Stevenage midfielder has taken a bit of time to settle into the Irish League but on Saturday he put in a brilliant performance against Dungannon Swifts. He scored two penalties in this game but his overall work-rate and skill set is just what Stephen Baxter's side need at the moment, especially with key player Paul Heatley out injured. In fact, all four of his goals so far this season have all been scored from 12 yards.
I'm looking forward to seeing Kennedy's game develop as the season progresses. He could be a useful player in Baxter's squad if the Crues are going to be challenging long term for silverware this season.
Team of the Week – Ballymena United
Ballymena win my team of the week this week.
I've been critical of David Jeffrey's side more than most this season but credit where it is due in picking up their first home league win of the campaign against Warrenpoint.
It was a classic performance by Ballymena on Saturday. Inspired by Ross Redman (pictured), Cahair Friel opened the scoring with a cool finish and Paul McElroy added a quick fire second as the Sky Blues secured the points against Barry Gray's side.
Ballymena have struggled the last 18 months or so as a club on the pitch through a series of injuries and consistency but one thing is constant with that club – they have a manager who believes in his team and believes in the process.
It was a clean performance from Jeffrey's team on Saturday as they kept their first clean sheet since their opening day victory at Coleraine. In fact, it was Ballymena's 50th clean sheet since Jeffrey came to the club.
Let's see if Ballymena can start moving up the table as a result of yesterday's success. If they perform as well as they did on Saturday, sides will need to play well to beat them.
Tuesday 24th November – Cliftonville v Ballymena United, Solitude, 19.45 KO, BBC Sport NI Website
This is the first of two games for both of these sides this week with the original date for this match postponed a couple of weeks ago due to international call ups.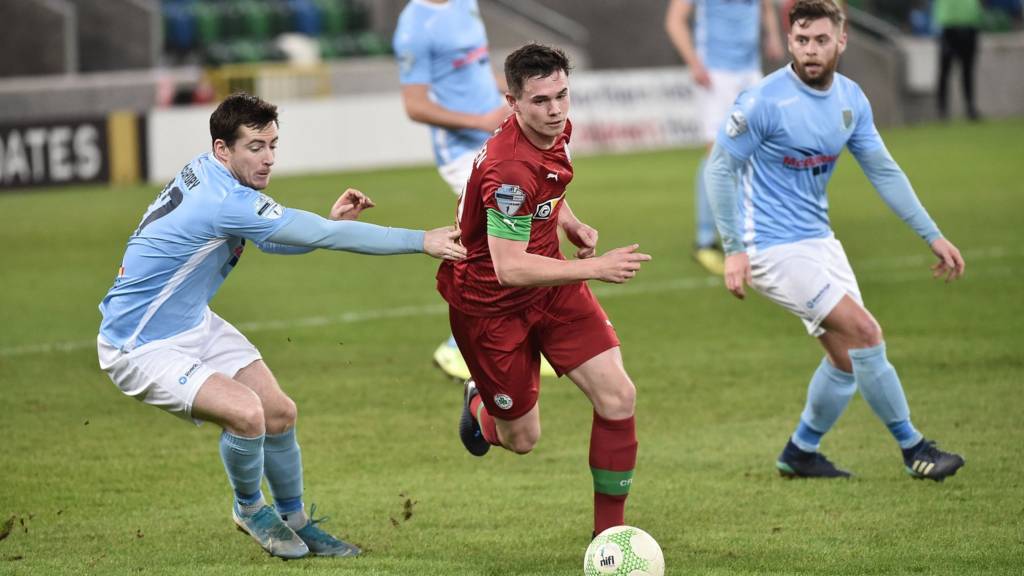 Cliftonville had the away day blues again on Saturday as they lost late on at Larne 1-0 while Ballymena finally got that first win at home at the Showgrounds by defeating Warrenpoint as I mentioned earlier.
I fancy the Reds to continue their perfect home record with a narrow win here at Solitude. I think it'll be tight though and I would not be surprised if this ends up being an odd goal victory for Paddy McLaughlin's men.
Stato's Prediction: Cliftonville 2-1 Ballymena United
Tuesday 24th November – Linfield v Glentoran, Windsor Park, 19.45 KO, BBC Sport NI Website
Linfield kept their 100% record in the league so far this season as they defeated Glenavon in a routine 2-0 win at home last Saturday. For Glentoran though, this is the first league encounter since their 0-0 draw at the Oval against Larne.
This is the first "Big Two" derby of the season (pictured) and although there will be few fans at Windsor Park it will still be an encounter full of blood and thunder on the pitch you can be sure about that. The Glens will start the game bottom of the table and they will be targetting something to get some momentum in to their slow start of the season.
However, I genuinely find it hard to see who can stop Linfield at the moment as they are just getting the job done whoever they come up against. They have to slip up sometime being the law of averages but it won't be here in my view.
Stato's Prediction: Linfield 2-0 Glentoran
Saturday 28th November – Ballymena United v Carrick Rangers, Ballymena Showgrounds, 15.00 KO, BBC Sport NI Website
Ballymena's second game of the week sees them return home to take on Carrick Rangers, who have not played for over a week after their matches against Glenavon and Coleraine were postponed due to COVID-19 restrictions.
This is a huge game for the Sky Blues who will want to kick on after winning at home last time out. For Carrick, it'll be interesting to see how they approach the game. They played really well against Portadown in their last home match winning 4-1 so it must have been massively frustrating for Niall Currie (pictured) and his team that they have not been allowed the opportunity to kick on because of circumstances which were out of their own hands.
I think Ballymena may just edge this based on sharpness more than anything else but I would not be surprised if Carrick took something from this game. They deserve more points than their league table positioning suggests and they definitely have the players to cause David Jeffrey's men problems.
Stato's Prediction: Ballymena United 2-1 Carrick Rangers
Saturday 28th November – Cliftonville v Portadown, Solitude, 15.00 KO, BBC Sport NI Website
This will be the second home game of the week for Cliftonville and they will be looking to take maximum points from this match with Portadown, as well as against Ballymena on Tuesday.
Portadown will be keen to get back into action having not played since that 4-1 drubbing at Carrick. They were well off the pace despite having gone in front and naively made too many individual errors. You can bet your bottom dollar Matthew Tipton will be demanding a reaction from his players and they are better on the road than at home at the moment so they could definitely be a threat for Paddy McLaughlin's men on Saturday (pictured).
However, I am going to back a comfortable home win for the Reds to make it a double this week for the Solitude side.
Stato's Prediction: Cliftonville 2-0 Portadown
Saturday 28th November – Coleraine v Larne, Coleraine Showgrounds, 15.00 KO, BBC Sport NI Website
Coleraine and Larne will lock horns on Saturday at the Showgrounds in what should be a really entertaining game.
The Bannsiders were well beaten in their last home game against Linfield which was very unlike from an Oran Kearney side (pictured). They were outclassed for much of the game and didn't test Chris Johns too much in the Linfield goal.
Larne left it late but remain unbeaten so far this season after Joshua Robinson's late winner against Cliftonville last weekend. It is imperative that the Inver Men keep the pace with Linfield at the top of the table. At present, they look the best placed team to take advantage if David Healy's men come unstuck.
Investor Kenny Bruce of Purple Bricks (pictured) is playing his cards close to his chest on Twitter saying that they are just thinking of the top six but make no mistake about it: they are a side with European Football or better on their mind. He's a wily fox Kenny but deep down I'm sure he will be very content with the start to the season his side have made.
This will be an interesting game here. Coleraine caused Larne problems last season with their front players and I think they will do the same here but Larne are better defensively though and have players of their own who can cause issues for a Coleraine defence which is missing key players.
I feel, even at this early stage in the season, if Coleraine lose here, they will fall too far behind to challenge for the title and maybe even Europe so with current form in mind, I am going to go for an away win here as I think Larne have the bit between their teeth at the moment.
Stato's Prediction: Coleraine 1-2 Larne
Saturday 28th November – Glenavon v Crusaders, Mourneview Park, 15.00 KO, BBC Sport NI Website
Until losing at Linfield last weekend, Glenavon had gone on a nice unbeaten run and were beginning to put together some decent performances. They face another tough match on Saturday as they take on Crusaders at Mourneview.
The Lurgan Blues were outclassed by Linfield last weekend but they should not be too down-heartened about that because that is just what the Blues have done to pretty much everyone so far this season.
Crusaders, after losing at Larne the week before, responded well and were back to their best against Dungannon last weekend winning 3-1. Ben Kennedy was one of the players of the week but don't forget the importance of Sean O'Neill's penalty save for the Crues to deny Douglas Wilson early in the first half (pictured). That was a big moment in the game and proof that Stephen Baxter and his team are indebted to a top class goalkeeper between the sticks.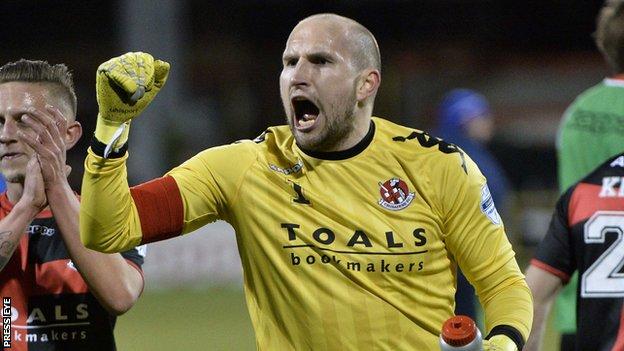 Games between these two sides at Mourneview are normally very close and Gary Hamilton's side are usually very competitive against the Crues. Indeed, Glenavon have not lost at home to Crusaders since 2018 when they were humbled 6-1. I fancy an upset here with the Lurgan side nicking this.
Stato's Prediction: Glenavon 2-1 Crusaders
Saturday 28th November – Glentoran v Dungannon Swifts, The Oval, 15.00 KO, BBC Sport NI Website
This will be the second game of the week for the Glens after they play that 'Big Two' Derby in midweek against Linfield. On Saturday, they will be back on home turf against Dungannon in what is already looking like being a big game for both teams.
If Glentoran were to not pick up any points from the Linfield match, they simply have to win here. They still have not found the right mix to their team yet and I feel they are trying too hard at times to get things right. This is only their third home game of the season though so I expect them to be more competitive as the season goes on and they catch-up on missing games. However, the longer it takes them to get that first win on the board, the more pressure Mick McDermott (pictured) and his players will be under.
Dungannon fell away in the second half at Seaview last week having initially caused Crusaders problems in the first half. Had they scored that early penalty it might have been a different game for Kris Lindsay's men.
They need more goals from across the team. They cannot keep relying on Douglas Wilson (pictured) scoring their goals and I fear that could be a huge problem long term for the Swifts.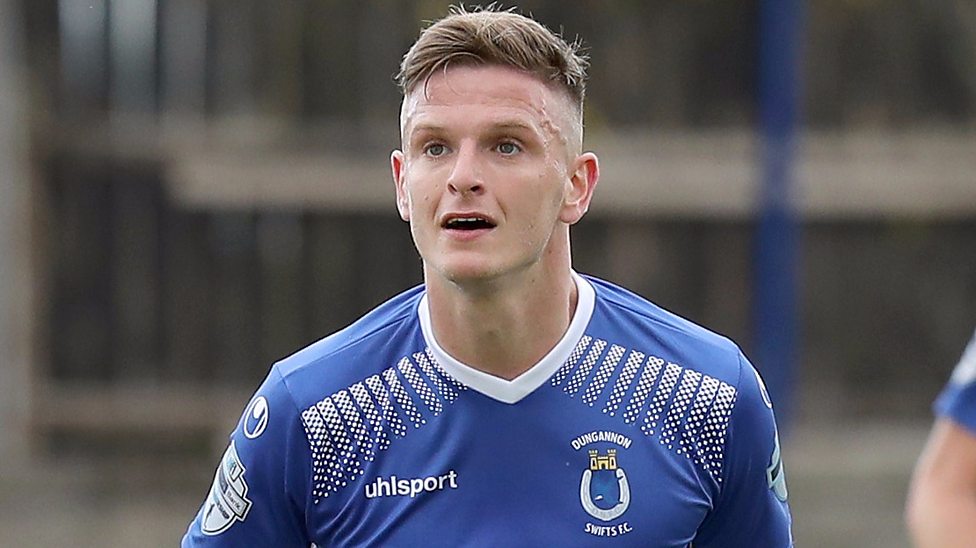 I'm backing Glentoran to get a competitive win here and move off the bottom.
Stato's Prediction: Glentoran 2-0 Dungannon Swifts
Saturday 28th November – Warrenpoint Town v Linfield, Milltown, 17.30 KO, BBC Sport NI Website
Warrenpoint will have the BBC cameras at their game on Saturday evening as they host the Champions at Milltown in what should be an eagerly anticipated match.
This is a free hit for Barry Gray's side. They have absolutely nothing to lose in what is definitely a 'David v Goliath' battle. Realistically, they do not have the quality and depth to trouble Linfield but in a one off game, anything can happen. They will definitely be buoyed after getting a really good point against Larne in their last home game but they were disappointing last weekend when they were beaten at Ballymena. They were unlucky to lose to Crusaders on the opening day too.
If Warrenpoint are going to get anything here, they need to be sharp defensively. Gavin Peers and Gabriel Sava (pictured), the goalkeeper, have come in and done well in that regard.
The only issue I see here for Linfield, realistically, is concentration. The Blues undoubtedly have far too much quality in their ranks and should win this game comfortably but you still have to be professional and turn up to these grounds and pick up the win. David Healy's men (pictured) have been ruthless so far this campaign and they will need to be here as Warrenpoint will give it everything and not lie down.
I would love to see an upset on Saturday night just to bring everyone back into things but I simply cannot see it happening. I anticipate a comfortable away win for the Blues here and their 100% record at the top of the table to remain intact.
Stato's Prediction: Warrenpoint Town 1-4 Linfield
Player to scout: Ryan Swan (Warrenpoint Town)
Each week I select a player from the Irish League that you should go and scout. This week I am picking Warrenpoint Town striker Ryan Swan (pictured).
At only 24, Swan has had an interesting career so far having initially started out in the League of Ireland at clubs such as Bray and UCD where he began notching goals. He also had a spell at Cabinteely before joining Bohemians. Since joining Warrenpoint, he has struck up a really good partnership with Alan O'Sullivan and has contributed to the side with a fair few goals as well. Their partnership was evident already this season when the Point won at Dungannon on match-day two. Their goals, as well as contributions from others, will be vital if the Point are to avoid the drop.
For me, Swan is a player destined to head to a bigger club in the Irish League long term. He shows good movement and is not afraid to have a strike at goal as he did with his fine finish against Larne recently.
I wonder if he will get himself a goal against Linfield on Saturday night? Tune in to find out!
Useful Links and sources which you should check out:
NIFL Premiership Highlights Show:
The Score NI with Michael Clarke:
The Waffle – Irish League Podcast
That's What I Call Football
Check out quality Irish League content from some of the Leagues top names:
Joel Taggart, Liam Beckett, Michael Clarke, Nicola McCarthy, Colin Hopkins, Steven Beacom, Mark McIntosh and find some of the characters I've interviewed so far by visiting the Campbell's Footballs archive.