Dr. Grant Campbell of the 'Campbell's Footballs' podcast (a.k.a. Stato) discusses his predictions and thoughts each week in the Danske Bank Premiership in Northern Ireland. Grant will provide his thoughts on the upcoming league matches and offers his predictions.
| | | |
| --- | --- | --- |
| Matches | Stato's Predictions | Actual scoreline |
| Dungannon Swifts v Coleraine | 0-2 | 2-0 |
| Carrick Rangers v Warrenpoint Town | 1-1 | 1-3 |
| Crusaders v Glentoran | 1-1 | 2-0 |
| Larne v Glenavon | 2-1 | 2-1 (3pt) |
| Portadown v Ballymena United | 1-3 | 0-0 |
| Linfield v Cliftonville | 3-2 | 2-0 (1pt) |
I managed two correct outcomes from last week's matches with one correct score.
Player of the week – Daniel Hughes (Dungannon Swifts)
This week's player of the week, after his outstanding individual performance against Coleraine last Friday night, goes to Daniel Hughes (pictured) of Dungannon Swifts.
The former Cliftonville striker showed his class and experience as he inspired the Swifts to a magnificent three points against the Bannsiders.
He didn't score in the game but did provide a magnificent assist for Michael Carvill who thrashed the ball past Gareth Deane to open the scoring and in the second half he had a superb effort which thundered off the bar. Later in that move, Rhyss Campbell, who I talked up on last week's blog, fired home the second to secure a magnificent three points for Kris Lindsay's team, moving them up to eighth in the table.
It was a brilliant performance from Dungannon, proving that on their day, you underestimate them at your peril. A dogged and battling display from the Swifts for their second win of the season.
Team of the Week – Larne
After winning the County Antrim Shield and going top of the Irish Premiership, this week's team of the week goes to Larne.
The Inver Men have been flawless since they dropped points at Warrenpoint earlier in November. Since that slip up at Milltown, Larne have won at home against Crusaders, Cliftonville and Glenavon but also won away at Coleraine too and looked composed in each of those matches.
It is no surprise that this form meant that Tiernan Lynch won the manager of the month for November too as a result. Couple all of that with a win in the County Antrim Shield final against Glentoran and Larne have had the perfect time of things recently. They went top after Linfield's slip up last week at Warrenpoint which was a welcome bonus.
The big question will obviously be, can they keep this going and make a sustained title challenge? On this evidence, it'll take a good team to beat them, home or away.
Tuesday 8th December – Dungannon Swifts v Portadown, Stangmore Park, KO 19.45, BBC Sport NI
This is the first of two games for both of these sides on Tuesday night and both come to it in different ways.
The Swifts were magnificent on Friday as they saw off Coleraine 2-0 at Stangmore while Portadown stopped the rot with a creditable home point against Ballymena where they drew 0-0. I was really impressed with Michael Carvill (left) against the Bannsiders. His movement caused Oran Kearney's side all kinds of problems and he seems to be enjoying life at Stangmore (right).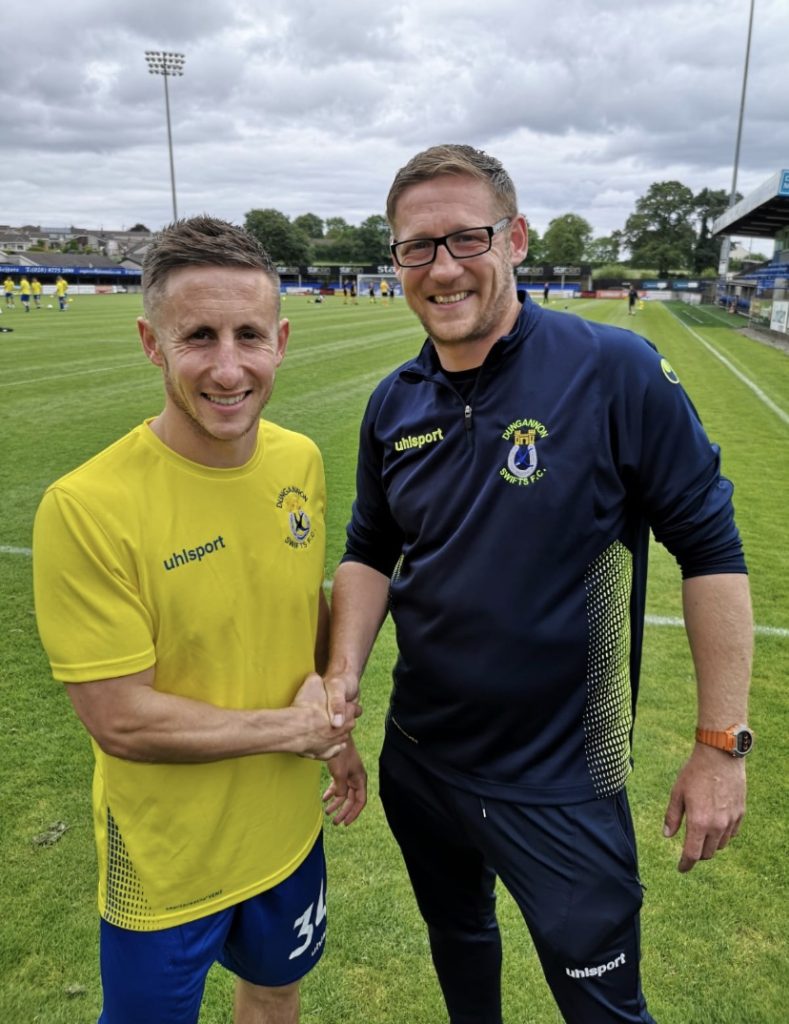 Portadown will just be pleased to have got back on the bike after their hammering at Cliftonville last week. Matthew Tipton (pictured) will be happy with his resolute side against an in form Ballymena and deserved a share of the spoils against David Jeffrey's team in what was a scrappy encounter.
Dungannon are looking revitalised just now though and I think Kris Lindsay's side will win back to back home games here with a competent victory.
Stato's Prediction: Dungannon Swifts 2-0 Portadown
Friday 11th December – Larne v Linfield, Inver Park, KO 19.45, BBC Sport NI
This is quite simply the biggest game of the Irish League season so far.
Larne, the league leaders, will have their biggest test yet as they take on the current champions Linfield on Friday night under the Inver Park lights.
Larne have been superb so far this season. They have the County Antrim Shield in the cabinet and they look like a side who want more than that.
The Inver Men have shown some magnificent league winning qualities so far this campaign with late winners against Cliftonville and Glenavon in their home games recently but it is more than just that. Larne have scored 66% of their goals so far this campaign in the final quarter of matches. They look resolute defensively too and there is a never-say-die attitude in the team which is crucial if a title challenge is to be made. Guys like Jeff Hughes (pictured) and Mark Randall have been different class this season but the whole team just looks full of confidence at the moment.
Linfield got back on the bike with a good win at home to Cliftonville last weekend. The second half showed why they are still the team to beat. Shayne Lavery (pictured) scored a really good opening goal and looked a threat all game against the Reds. Kirk Millar got on the score sheet again too and once again highlighted his worth to David Healy's side.
I think this could be a real 'Battle Royale' at Inver on Friday night. I'll definitely be tuning in and I'm hopeful of lots of goals. Larne have yet to drop any points on their own patch so far this season but facing Linfield at home is as big a test as it gets for any championship competing team.
Larne did win in the County Antrim Shield against Linfield earlier this season at Inver Park but the Blues did have a few players missing that night.
This game will be more of an indicator for me in terms of Larne's potential title credentials. If Lynch's side were to win here, they, for me, are the team in the box seat for the league title. If Linfield win, they will still be the benchmark. Linfield last weekend chalked up a total of 5,100 points in Irish League 's top flight since 1890! A phenomenal return and thanks to Marshall Gillespie for an unbelievable stat.
With that, I am sitting on the fence and going for a score draw!
Stato's Prediction: Larne 2-2 Linfield
Saturday 12th December – Coleraine v Warrenpoint Town, Coleraine Showgrounds, KO 15.00, BBC Sport NI
This is a massive game for Coleraine whose massive dip in form is one that is hugely concerning for all fans of the Bannsiders.
It is one win from their last six matches for Coleraine and they have failed to score in their last four consecutive games, including a toothless display last Friday at Dungannon. Something is not right at Ballycastle Road right now. They aren't scoring enough goals that's for sure but they are also conceding too many as well which surprises me. In Stephen O'Donnell and Lyndon Kane, they have excellent defenders in their ranks and with Aaron Traynor (pictured) coming back to full fitness after a long time out through injury, that will make a difference too. They certainly need to win this game here though that's for sure otherwise you feel the pressure will intensify on Oran Kearney.
Warrenpoint, on the other hand, will be looking for a third away win of the season and a hat-trick of wins on the bounce here. Alan O'Sullivan (pictured) and Ryan Swan got in amongst the goals again and Keelan Dillon also notched against Carrick as well last weekend. There's no doubt Warrenpoint keep improving as a side and that is testament to Barry Gray and his team on the training pitch. The Milltown side are definitely getting the rewards at the moment.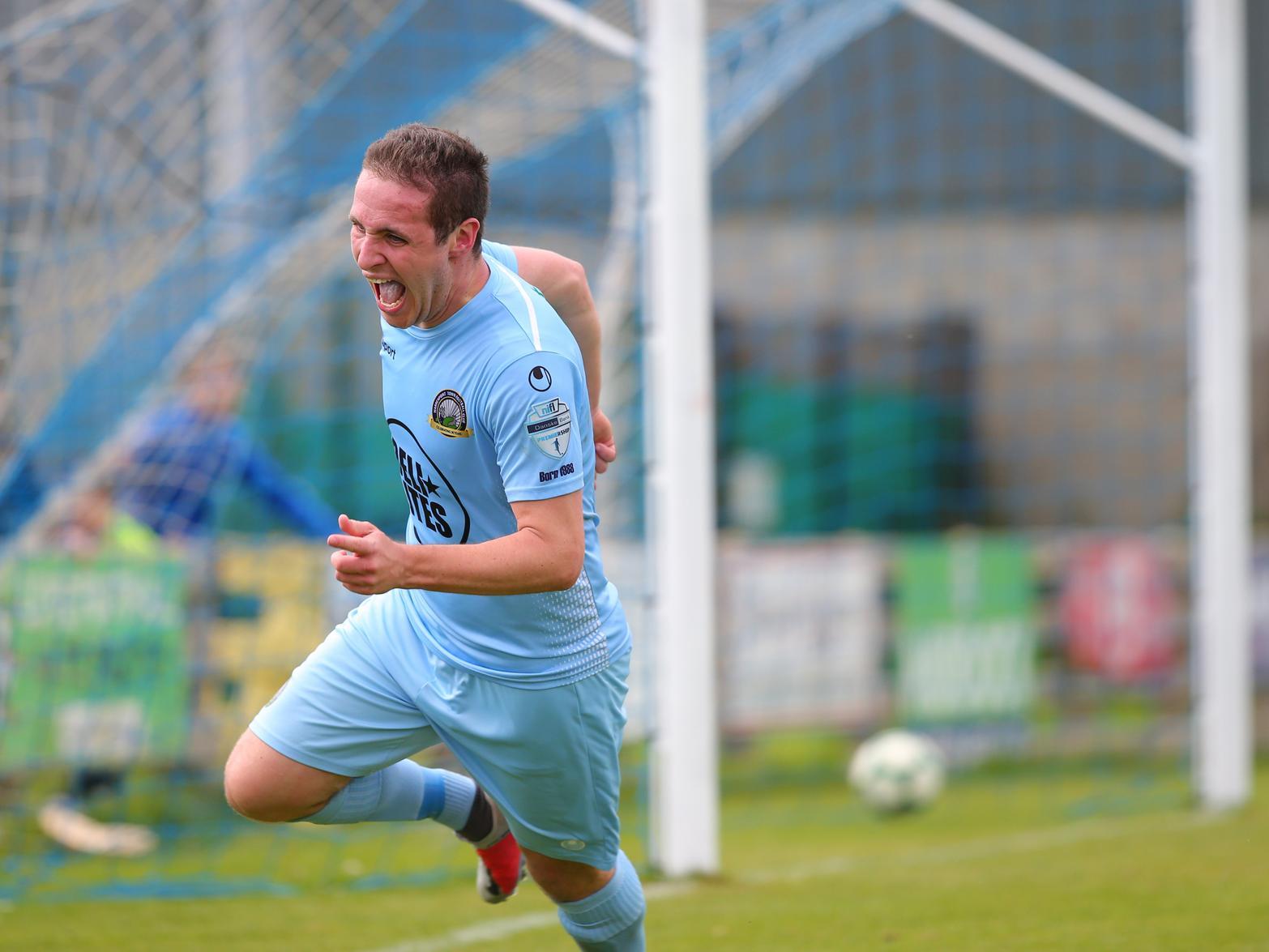 You have to go back to 2015 for the last time Warrenpoint won at Coleraine and even though Oran Keanrey's side have been well off the boil lately, I think you have to back them here. Coleraine will find some form sooner rather than later and when they do they could give someone a pasting.
They have a lot of good players in their team but it is just not clicking for them right now. When it does, teams will find it tough against them. I think Coleraine's recovery from a poor start to the season will begin here with a home win.
Stato's Prediction: Coleraine 2-0 Warrenpoint Town
Saturday 12th December – Crusaders v Portadown, Seaview, KO 15.00, BBC Sport NI
Crusaders are back at home again on Saturday and after their impressive 2-0 win over Glentoran last week, they entertain bottom of the table Portadown at Seaview.
It took time for them last weekend but Crusaders deserved their win against Glentoran. Jordan Forsythe netted the opening goal from the penalty spot but Ross Clarke's (pictured) goal to seal the game was sumptuous. If that was Lionel Messi, we'd be watching it on repeat for weeks. It was a fantastic goal. Go and check it out if you have not already.
Portadown will find it tough here. This will be their second away game of the week and this is definitely the hardest of the two matches for sure. They do have nothing to lose here though and that might help them in some ways. However, I can only see a home win here.
Stato's Prediction: Crusaders 3-1 Portadown
Saturday 12th December – Dungannon Swifts v Ballymena United, Stangmore Park, KO 15.00, BBC Sport NI
This is Dungannon's second home game of the week as they host a Ballymena side who are definitely finding their feet after a slow start to the campaign.
If Dungannon were to beat Portadown on Tuesday night as I've predicted, this will be a good game to see if they can double it up. Ballymena though are coming into this game off the back of three wins from their last four games and four clean sheets in a row. They struggled a little bit against Portadown but did look like the most likely to win the game at Shamrock Park. Kofi Balmer (pictured) and Leroy Millar are more and more growing into the campaign and I will be intrigued to see how these guys progress as the season moves on.
I fancy Ballymena to just edge this here. Shane McCartan has been huge for them of late and it looks like there is a renewed confidence in David Jeffrey's side.
Stato's Prediction: Dungannon Swifts 1-2 Ballymena United
Saturday 12th December – Glentoran v Carrick Rangers, The Oval, KO 15.00, BBC Sport NI
This is a massive six pointer for both of these sides at the Oval on Saturday and one in my mind that Glentoran cannot afford to lose.
Glentoran are not playing badly in matches but they are not taking their chances at key points in games and are getting punished at the other end. Jay Donnelly missed a massive chance at Seaview last week at 0-0. If he scored that, I think it would have been a different game.
I was impressed with goalkeeper Rory Brown last week though and I do feel that now we will see a good battle for the number one jersey at the Glens between him and Dayle Coleing. They need to start scoring goals though. When they do, I think they'll win games as a result and go on a good run.
Carrick will come into this game demanding a response from last week's defeat against Warrenpoint. Their goalkeeper Aaron Hogg (pictured) made a string of good saves in the game but he was powerless to prevent the Milltown side deservedly winning the match. Lloyd Anderson did notch for the hosts but his goal was scant consolation as the Amber Army were beaten 3-1 at home.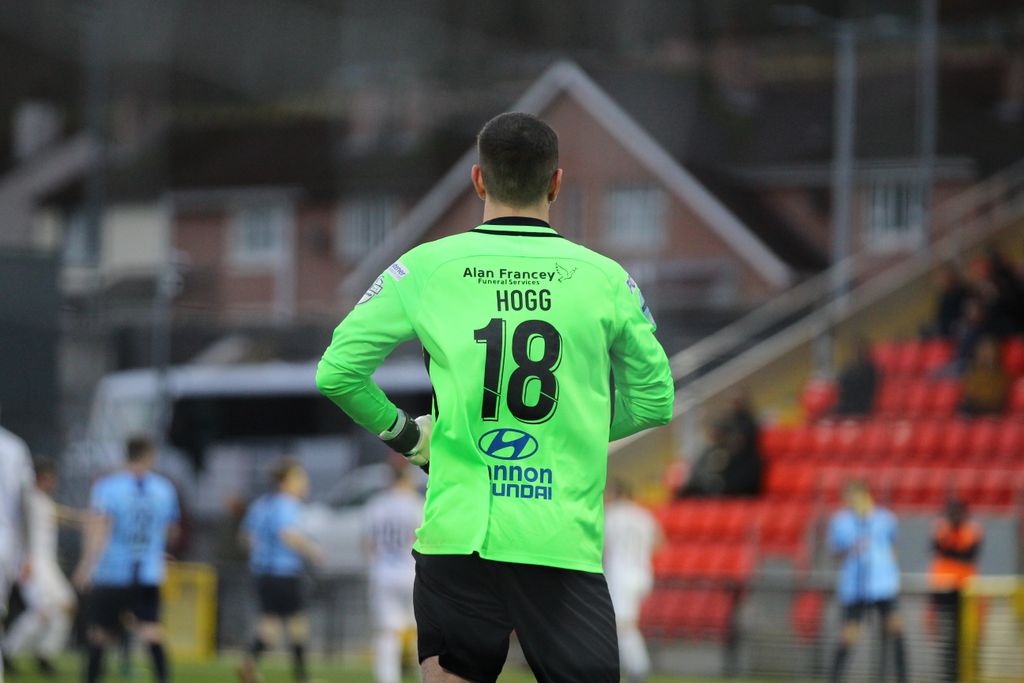 I think Niall Currie's side will be more competitive at the Oval having been not at the races last weekend and make it tough for Mick McDermott's Glens. Crucially though, I think Glentoran will just edge this with a narrow but massive home win.
Stato's Prediction: Glentoran 2-1 Carrick Rangers
Monday 14th December – Glenavon v Cliftonville, Mourneview Park, KO 19.45, Sky Sports
Monday's game sees the Sky Sports cameras at Lurgan as Glenavon take on Cliftonville at Mourneview.
Even though Glenavon lost last week against Larne, they acquitted themselves well at Inver Park. Michael O'Connor scored a free kick that Ronaldinho would have been proud of, leaving Conor Devlin looking like David Seaman (sorry Conor!). They have a good balance to their side these days and certainly have an experienced back line. Matthew Snoddy (pictured) also is quietly having a good last few games for the Lurgan Blues in that midfield matching up well with midfield teammate Robert Garrett (more on him later).
Cliftonville enjoyed a lot of good play against Linfield but as manager Paddy McLaughlin alluded to post match, they lacked creativity and cutting edge to unlock a stubborn Linfield defence. The second goal was a killer for them to lose in the game and left the Reds with an uphill struggle. Thomas Maguire looked dangerous when he came on and I think he could be pushing for a start here.
I think this will be a tight game here at Mourneview. I think these are two very evenly matched sides with similar battling qualities across the pitch. I do feel the Lurgan Blues might just take advantage of Cliftonville's poor away form though with a narrow home win here.
Stato's Prediction: Glenavon 1-0 Cliftonville
Player to Scout: Robert Garrett (Glenavon)
Every week I pick a player in the Irish League for you to go and scout. This week I am picking Glenavon's Robbie Garrett.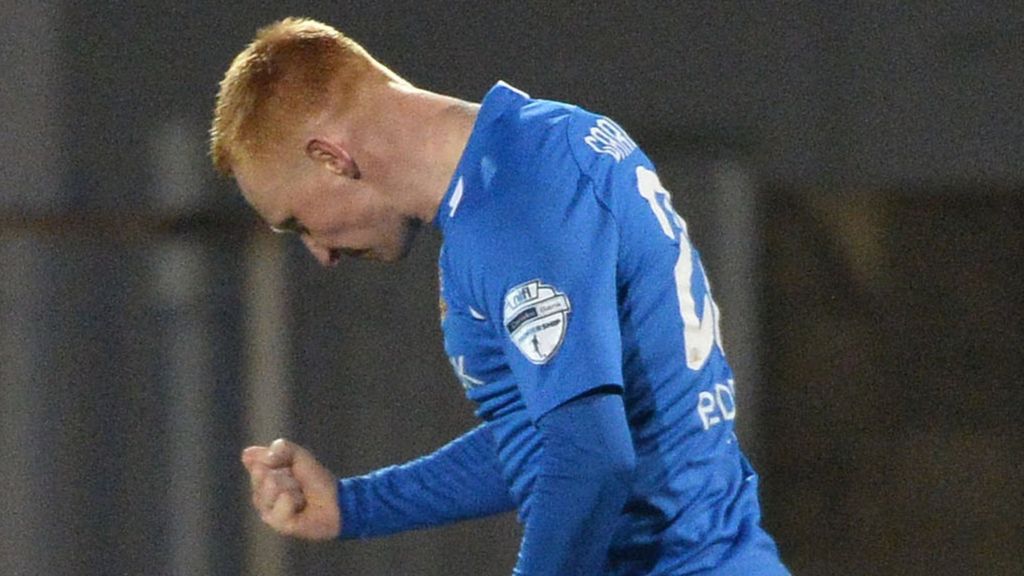 Garrett started his career at Stoke City making two appearances for the club before a spell at Wrexham in the National League. Garrett made his debut for Irish League champions Linfield in September 2008 and scored his first goal later that month. The midfielder was then awarded the first of five NI caps in June 2009 and made his final appearance in his first stint with Linfield with a 5-2 victory against Glenavon at Mourneview Park in April 2014.
Garrett went onto join Portadown on a three year deal in May that year before moving back to Windsor Park in 2017. Garrett made his 250th appearance for Linfield in a 2-0 win against Cliftonville at Solitude in 2018. Garrett joined the Lurgan Blues in 2019 and has just made his 50th appearance for Gary Hamilton' side in their most recent match away at Larne.
Garrett does like a shot from outside the box and did score this deflected effort against Linfield last season at home. He is a very capable and experienced player who will be important for Glenavon this season particularly in the cups and the Lurgan Blues' quest to get into the top six or higher.
Useful Links and sources which you should check out:
NIFL Premiership Highlights Show:
The Score NI with Michael Clarke:
The Waffle – Irish League Podcast
That's What I Call Football
Check out quality Irish League content from some of the Leagues top names:
Joel Taggart, Liam Beckett, Michael Clarke, Nicola McCarthy, Colin Hopkins, Steven Beacom, Mark McIntosh and find some of the characters I've interviewed so far by visiting the Campbell's Footballs archive.